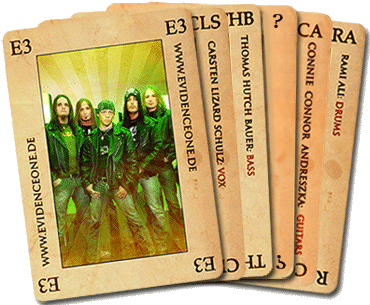 Line Up
Carsten "Lizard" Schulz
vox
Thomas "Hutch" Bauer
bass
Connie Connor Andreszka
guitar
Rami Ali
drums
Just one look at the new EVIDENCE ONE cover artwork makes unmistakably clear what the new album (their third) is all about: there we have 3 cards, the first two refer to "Criticize The Truth" and "Tattooed Heart", EVIDENCE ONE´s first albums while the third card is signed as a "joker".
You can take this as a promise from the band that already had released two great and critically acclaimed records. With their third strike "The Sky Is The Limit" the star of EVIDENCE ONE shines brighter than ever before. Without leaving their musical way the band made another step forward, what is hard to believe when you already know their previous works. But in fact EVIDENCE ONE have grown, evolved and secured their spot in the international Hardrock & Metal landscape to be recognized as one of Europe´s leading Melodic Metal bands today. Again there is a video clip, this time for the stunning title track with an almost ACCEPT type of guitar riffing. But this is just the beginning of a highlight-filled album. Diverse songwriting, cleverly arranged, with a high class sound - this is what EVIDENCE ONE stand for. Add to this the experience the band has gained and the confidence they possess, you can imagine what kind of killer album comes your way with "The Sky Is The Limit".
In 2002 EVIDENCE ONE debuted with "Criticize The Truth", an album that was originally written just for fun, but then became the foundation of a real band. The two mainmen are well-known throughout the Rock & Metal scene: Robby Böbel (FRONTLINE) and Carsten "Lizard" Schulz (ex- DOMAIN), who had found a first class line up together with Hutch Bauer (from FRONTLINE as well) on bass, Wolfgang Schimmer (2nd guitar) and Rami Ali (JUSTICE, LEX ) on drums. The fantastic song material received huge attention all over Europe so it was no surprise that EVIDENCE ONE were invited to festivals such as "Gods Of AOR" (as first German band ever!), the "Earthshaker Fest" and "Wacken Open Air" in 2003. "Tattooed Heart", the second record, wrapped in excellent artwork by Thomas Ewerhard (a.o. EDGUY and SPOCK'S BEARD), has turned out to what many had wished: A masterpiece, built on majestic guitarwork, divine vocals, heaviness and melody. With "Virus In My Veins" EVIDENCE ONE even had a video clip that underlined their professional ambitions. Critical acclaim followed again from whole Europe.
In 2005, after successfully playing shows with such heavyweights as AXEL RUDI PELL, the SCORPIONS or KROKUS, and another stop at the famous 'Earthshaker Festival', the band got the chance to tour Germany again, this time with none other than ALICE COOPER himself. 2006 saw the band slowing down a bit, writing new material for their third release, but making a deep impact on the first 'Rock Of Ages Festival' together with the likes of TWISTED SISTER, GOTTHARD, GLENN HUGHES, URIAH HEEP or UFO amongst others. The festival also meant the official introduction of new lead guitarist Joerg "Warthy" Wartmann, who replaced Robby Böbel. Robby finally decided to focus more on the production and songwriting side of music. His first goal was to write the follow up to "Tattooed Heart". Together with Carsten Lizard Schulz, Robby Böbel managed to produce and write EVIDENCE ONE´s third full length output "The Sky Is The Limit".
Starting off as a Hardrock band, turning into a Metal act, combining melody and heaviness into one without disappointing the fans of their first album and opening themselves for new ones, only the sky can be the limit for EVIDENCE ONE now… Powered by, again, fantastic critics, the band went to present to album's new material live. First by doing a few festival and support shows in Germany and the Czech Republic, supporting and playing with bands like DORO and GOTTHARD, to finally hit the road in December 2007 again, supporting SAXON again on their latest Euro tour, where they also presented their new guitarist Barish Kepic (ex-JADED HEART). In early 2008 with the welcoming of guitarist Connie Andreszka (ex-CIRCLE OF PAIN) the newly completed line up made their first live statement at the Czech Basinfirefest (with the likes of PRIMAL FEAR and QUEENSRYCHE).